With over 90% of the businesses in the world falling under the "small and medium enterprises (SME)," these businesses play a significant role in most economies. SMEs' contribution to the economy is vital for many emerging markets, with over 50% employment generation and 40% of the GDP in these markets. As per research by the World Bank, it is estimated that SMEs are in a place to generate roughly 600 million jobs by 2030, making it a vital sector with a high economic impact in the coming years.
Despite the growing priority for SMEs, it is often one of the most financially neglected sectors in the world. Businesses that fall in the SME category have a historically low success rate in raising funds through debt or equity, resulting in roughly 40% of the SMEs being unable to meet their financial needs. As estimates from the World Bank point out, the investment gap at $5.2 trillion annually, marking the financing gap at 1.4 times more than the current global SME financing levels. To break it down further, 60% of the credit gap is in the Asia and Pacific region, translating to more than half of the SMEs failing to raise sufficient capital for operations.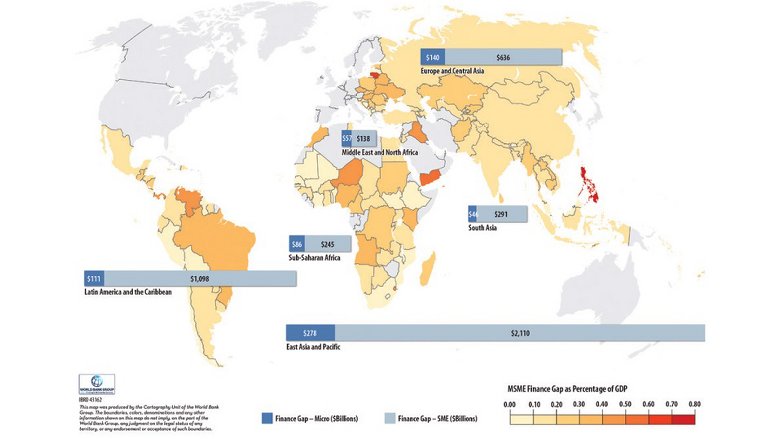 The above figures only point to a dire picture of formal SMEs. When informal SMEs are accounted for, the financing gap grows wider, disabling the entrepreneurship spirit globally. Unfortunately, the current state of SME financing does not keep up with the demands for SMEs to grow, generate employment opportunities, and be the backbone of emerging economies. As of this analysis, financing mechanisms for SMEs are pretty scarce and almost unavailable in large parts of the world, and it places a stark warning for the economy.
At SMEXCHANGE.COM, we understand that SMEs face an uphill business battle due to the lack of information, knowledge, technology use, funding & support of a real eco-system. We are here to help and be a leader in bridging these gaps.
This article is adapted from an analysis by The World Bank: https://www.worldbank.org/en/topic/smefinance